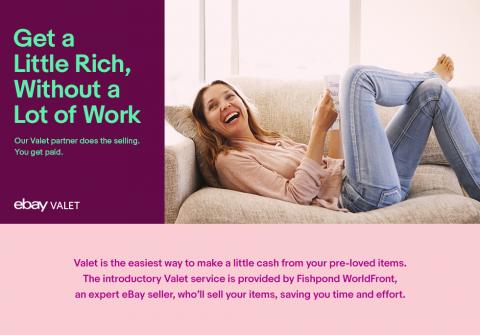 Fishpond WorldFront has launched a Valet service that takes care of the end to end listing of items for sale on eBay.com.au. A simple and easy way to make money, all you have to do with this clever new service is put pre loved or unwanted goods in a box – they then get picked up and sold for you. 
The service saves sellers' time and effort by taking care of things like capturing good quality photos, writing descriptions, pricing each item and then packing and shipping the items to the buyer. You make the money, without the hassle.
With the Valet service the seller simply sits back and gets paid a proportion of the sale price, which is especially good for when you need to make space for new presents, or if you receive something you could really do without, rather than having to go through the rigmarole of listing, answering questions and dealing with difficult buyers.
Items that can be sold through the eBay Valet service currently include books, DVDs, CDs, toys and many other products that have a barcode.
"We're excited to bring this service to eBay" says Fishpond WorldFront CEO Ben Powles. "It brings a whole new level of convenience and ease to selling online for eBay's customers."
EBay's Senior Director Marketing and Retail Innovation, Steve Brennen said "By partnering with Fishpond WorldFront we are leveraging their platform experience and expertise in this field. We expect the Valet service will be a really compelling option for sellers listing high value used goods on eBay."
More information:  http://www.ebay.com.au/rpp/ebay-valet