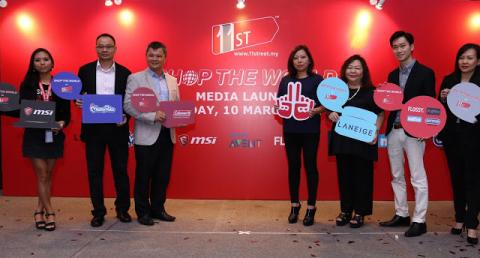 11street (www.11street.my) today announces the launch of its international online shopping event campaign – 'Shop The World', to bring to consumers millions of internationally-branded products especially from countries such as China, Japan, Korea, Taiwan and USA.
Wong Siew Lai, Vice President of Marketing Communications, 11street shares that the 'Shop The World' campaign is 11street's brainchild, to satiate the growing consumers' demands for greater product variety and renowned global brands online with enticing deals and promotions.
"Today, 11street has close to 10 million products listed on our platform and as a matter of fact, more than half of them are popular cross-border products and international brands. As one of the leading e-commerce platforms in Malaysia, we want consumers to be able to shop the world without needing to leave the country. To do this, we have struck up partnerships with popular global names. Through these partnerships we have ramped up our offerings for the benefit of our consumers," Wong adds.
The campaign will see synergies between 11street and three leading global e-commerce players – its parent company, 11street Korea; UiTOX from Taiwan; and *WorldFront from Australia, which brings with it a large variety of popular overseas products.
WorldFront is global e-commerce player with fulfillment centres across three countries – United Kingdom (UK), USA, and New Zealand. WorldFront also owns and operates the largest online marketplace in New Zealand and Australia. Established in 2004, and now with over 23 million products across a diverse range of categories, WorldFront has established itself as the leading product supplier to marketplaces across the world.
Ben Powles, CEO of WorldFront adds: "WorldFront is looking forward to this partnership with 11street. As the largest marketplace in Australia and New Zealand, we want to offer Malaysian consumers our range of products from Australia, the UK and the USA at competitive prices through our store – Awesome Everyday Prices on the 11street platform."
"We have over 1 million products including many bestselling brands across all of 11street's categories available for this campaign, and we pledge to increase our product count on 11street to 3 million by mid-2017. We aim to break the geographical barrier and give all Malaysians access to the best products from across the world by leveraging 11street's 'Shop The World' campaign," Powles shares.
Kick starting from 11 March, the 'Shop The World' campaign will see 11street offering promotions on international products and global brands at up to 99% discounts and free overseas shipping for selected items, on top of giving away total RM1million worth of petrol vouchers for consumer purchasing items from the campaign listings, as a bonus to encourage more consumers to shop online, save cost and manage rising costs of living.